I was forwarded an article yesterday afternoon concerning the rising ticket prices of theater on Broadway in NYC. The article pertained especially to The Book of Mormon, the smash-hit winner of the 2011 Best Musical Tony Award. The article noted that before BoM won the Tony, premium ticket prices ranged from $192 to $277. After the win, however, the same seats are now being sold for between $302 and $477. The author of the article goes on to bash Broadway and the entire theater community for this "outrageous scam" and complains that it seems theater fees these days are comparable with hidden fees at the airport.
I just want to say that I completely disagree with the point of view presented in this article. Yes, the ticket prices for Book of Mormon have apparently skyrocketed. BUT this is a single show, a musical, and the winning musical of the year. The show is in high demand right now, as it is said to be one of the best shows of all time. If there is demand, why wouldn't the producers want to make a little more money?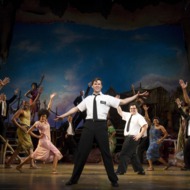 My next point is that since there is demand, there will always be someone to pay full price. I rarely pay full price to see shows; I prefer to use the half-price, day-of-show ticket windows located in Times Square. But SOMEONE is going to pay full price and not even blink. So as long as that person isn't you, who really cares?
Theater is that greatest artform in the world. It's also extremely expensive, time-consuming, and stressful. No one in theater ever has enough money. Actors aren't paid enough, everyone's on a budget, and oftentimes producers lose out. Book of Mormon has become the exception to this rule and it should be celebrated, not put down. I feel that it's worth the price to see any type of theater, and if you're really that concerned, don't go. You'll miss out on a great night and a wonderful memory.
The original article can be found here: