Tonight was kind of a "blah" night. It was closing night of the season at the playhouse where I work in the summers, and there were definitely some tears shed during goodbyes. It's always sad to see some great friends leave, and this summer has been exceptionally meaningful in that aspect. Also, I really didn't feel good at all tonight, my stomach was upset to the point where I wouldn't have gone if it hadn't been closing night.
So for tonight's blog post, I decided to try to keep it positive and post my five favorite things about fall! Now that it's September 3rd already, it seems that summer has officially left and fall is here to stay!
Number 5: New seasons of my favorite shows!
This has to be something everyone looks forward to. All the best shows start new seasons in the fall! This year, I'm really looking forward to the final season of Desperate Housewives, and the first episode of Dr. Phil's new season!
Number 4: Fall wardrobe haul!
Definitely one of my favorite things about the seasons changing: it's out with the old, in with the new as far as clothes are concerned! A bunch of us went shopping down in Massachusettes last weekend and I got a bunch of cute new things to wear for fall and winter! Lots of warm knits and a cute pair of legwarmers to wear over skinny jeans!
Number 3: Fresh Starts!
Maybe it's the kid in me remembering the first day of elementary school, but every fall still feels like the chance for a new beginning. Fall always reminds me of change as well, and everything sure looks different what with the beautiful changing colors of the leaves!
Number 2: Fall Smells!
Fall is by far my favorite seasons for scents. My favorite scent in the world is apple cider, whether its fresh from the pot or from a candle! I also love pumpkin and apple pie, and who doesn't love the smell of a fire in the fireplace!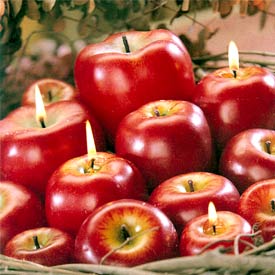 Who can resist some apple-scented goodness?!
And the number one thing I love about Fall...My Birthday!
If you know me, you know that I go crazy about my birthday. In my house, the countdown has already started, and I'm sure I'll start one on here soon enough. My birthday is September 29th, and I really try to make every one memorable! This year I'm headed to NYC...can't wait to blog about the amazing time I'm going to have and to post pics!!
So those are my favorite things about Fall. Remembering all the things I'm looking forward to definitely helped to wash away some of tonight's blues. Goodbyes are so tough, but with so many wonderful things to come this month I'm sure I won't be sad for long!
Cassie